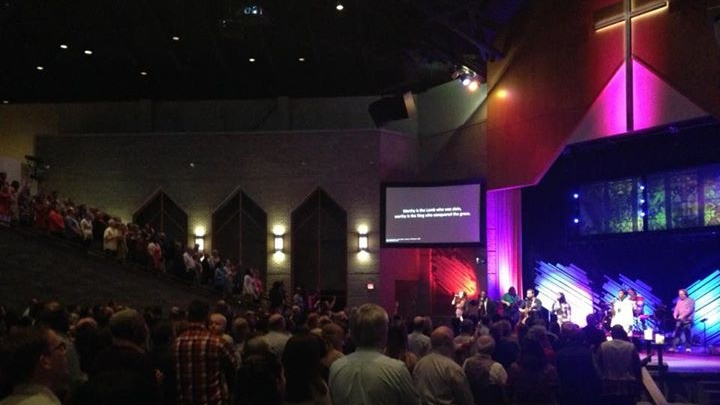 What to Expect
Parking
Enter off Moross and look for one of our parking lot greeters – they'll help you find the perfect parking spot and direct you to our main entrance.

Accessible Parking, Building Entry and Seating
There are designated handicap parking spaces in the back, northeast corner of our parking lot, providing easy access to the ramp-style sidewalk leading to the entrance. If you need assistance, please let one of our parking lot greeters know--they'll be happy to help!

Accessible seating is provided in our worship center--front or back, your choice--with companion seating. Please see an usher for assistance.

What to Wear
We're casual – Our pastor's jeans give that away!

Café Grace
Come a bit early to grab a hot cup of coffee along with a delicious baked good. The café is reasonably priced and opens at 8:30AM. Take your coffee into the service with you, or if you prefer, stay in the café where we broadcast live. First-time guests should stop by the Information Counter for a special coupon!

Our Gift to You
Stop by Guest Services (main entrance) or the Information Counter to pick up a Welcome Bag prepared especially for you – gift and all! If you want a copy of the day's message, let us know - we're happy to give you one of those too.